Alice Pintur

Three time champion of the Ladies of Quillotia Wrestling Federation and Book Club
Info
Species
Human
Gender
Female
Age
Age
Hair
Red
Eyes
Green
Skin
Light w/Freckles
Magic Color
Sea Green
Alignment
Dragonfly
Occupation
N/a
Home Island
Quillotia
Friends & Family
Lio, Albus, Hassen, Lewis, & Tanner(brothers)
Riley Tuff(love-interest),
Credenza
First Appearance
Book 6, page 20
Alice Pintur is one of the heirs. She is the only girl in a family of six, with Alice being the third youngest. She sometimes goes by the nickname "Red" because of her red hair. She and Riley Luck fall in love.
She lives in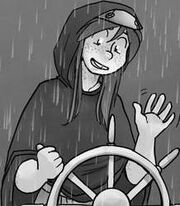 Quillotia with
her brothers
.
Under Construction
Personality
Edit
Under Construction
Abilities
Edit
Mass Compression - As the decendant of Grom Pintur, Alice has the magic power to compress her mass giving her multiple advantages.

Inhuman Strength - By just compressing a little she becomes strong enough to break rocks with a punch.
Near Invulnerability - If she compresses down enough, she can survive the collapse of a portion of Castle Fandango. 

Ectoplasmic Plant Manipulation - After her spirit was freed from Captain Snow's mechanical arm it was shown to be able to defend itself with an plant overgrowth like attack.
Relationships
Edit
Under Construction
Spirit: A dryad-like being.
Ad blocker interference detected!
Wikia is a free-to-use site that makes money from advertising. We have a modified experience for viewers using ad blockers

Wikia is not accessible if you've made further modifications. Remove the custom ad blocker rule(s) and the page will load as expected.